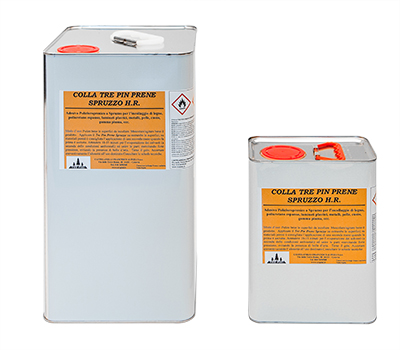 COLLA TRE PIN PRENE SPRUZZO H.R.
Low viscosity contact polychloroprene sprayable adhesive.
Solvent based adhesive; It doesn't contain toluene and chlorinated solvents.
Excellent for foam-rubber, polyurethane foam, leather, cloth and similars, metal, wood, cement, plastic laminates, porous plastic.
Largely employed for car interiors, car and bike upholstery.
Strong initial setting. Excellent resistance to temperature; good resistance to water.
Excellent sprayability; generally applied by spray gun.
Colours: orange.
| PACK | PACKAGING |
| --- | --- |
| Tin 5 litres | Boxes with 4 pieces |
| Tin 20 litres | Loose |