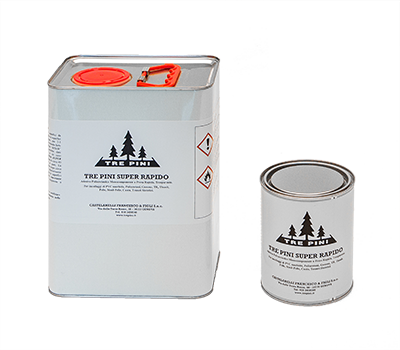 Transparent quick setting mono-component polyurethane adhesive.
Solvent based adhesive; It doesn't contain toluene and chlorinated solvents.
Excellent for tender PVC, polyurethane materials, rubbers, TR, thunit, leather, imitation leather, synthetic clothes.
Adhesive employed for repairing rubber dinghies and rubber boats.
Generally cold using adhesive; on particularly difficult substrates, thermo-reactivation could be necessary.
Excellent spreadability; generally employed by brush or roll.
| PACK | PACKAGING |
| --- | --- |
| Tin 400 gr. – net weight | Boxes with 24 pieces |
| Tin 860 gr. – net weight | Boxes with 12 or 24 pieces |
| Tin 4 kg. – net weight | Boxes with 4 pieces |
| Tin 16 kg. – net weight | Loose |