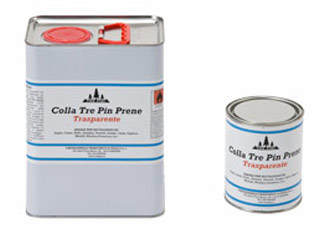 COLLA TRE PIN PRENE TRASPARENTE
Transparent medium viscosity contact polychloroprene adhesive.
Solvent based adhesive; It doesn't contain toluene and chlorinated solvents.
Suitable for leather, rubber, ceramic, cork, cloth, wood, metal, plastic, paper, ecc..
Particularly used in leather industry, production of bags and belts, orthopaedic industry.
Sticked materials keep an excellent elasticity.
Excellent spreadability; generally employed by brush or roll.
| PACK | PACKAGING |
| --- | --- |
| Tin 400 gr. – net weight | Boxes with 24 pieces |
| Tin 860 gr. – net weight | Boxes with 12 or 24 pieces |
| Tin 4 kg. – net weight | Boxes with 4 pieces |
| Tin 16,7 kg. – net weight | Loose |