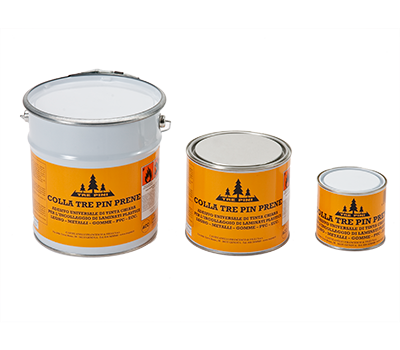 COLLA TRE PIN PRENE SPATOLA - ADESIVO UNIVERSALE
High viscosity contact polychloroprene adhesive.
Solvent based adhesive; It doesn't contain toluene and chlorinated solvents.
Adhesive for national and foreign plastic laminates, wood and similar, rubber, sporting floorings, cork, linoleum, cloth. Apply on metal, wood, sponge rubber, cement walls, marble slabs, smooth and plane stones, ecc..
Excellent for DIY applications.
Excellent spreadability; generally applied by spatula.
Good temperature and water resistance. Sticked materials keep an excellent elasticity.
| PACK | PACKAGING |
| --- | --- |
| Tin 400 gr. – net weight | Boxes with 24 pieces |
| Tin 860 gr. – net weight | Boxes with 12 or 24 pieces |
| Tin 1,75 kg. – net weight | Boxes with 12 pieces |
| Tin 4,5 kg. – net weight | Boxes with 4 pieces or loose |
| Tin 17 kg. – net weight | Loose |